CISD 2022-2023 Registration All campuses will register at the CHS Cafeteria: July 27-28, 8:00am - 7:00pm; July 29, 7:00am - 4:00pm. West Short Civic Center July 28, 3:00pm - 6:00pm Please arrive at least 30 min. prior to closing We look forward to seeing you!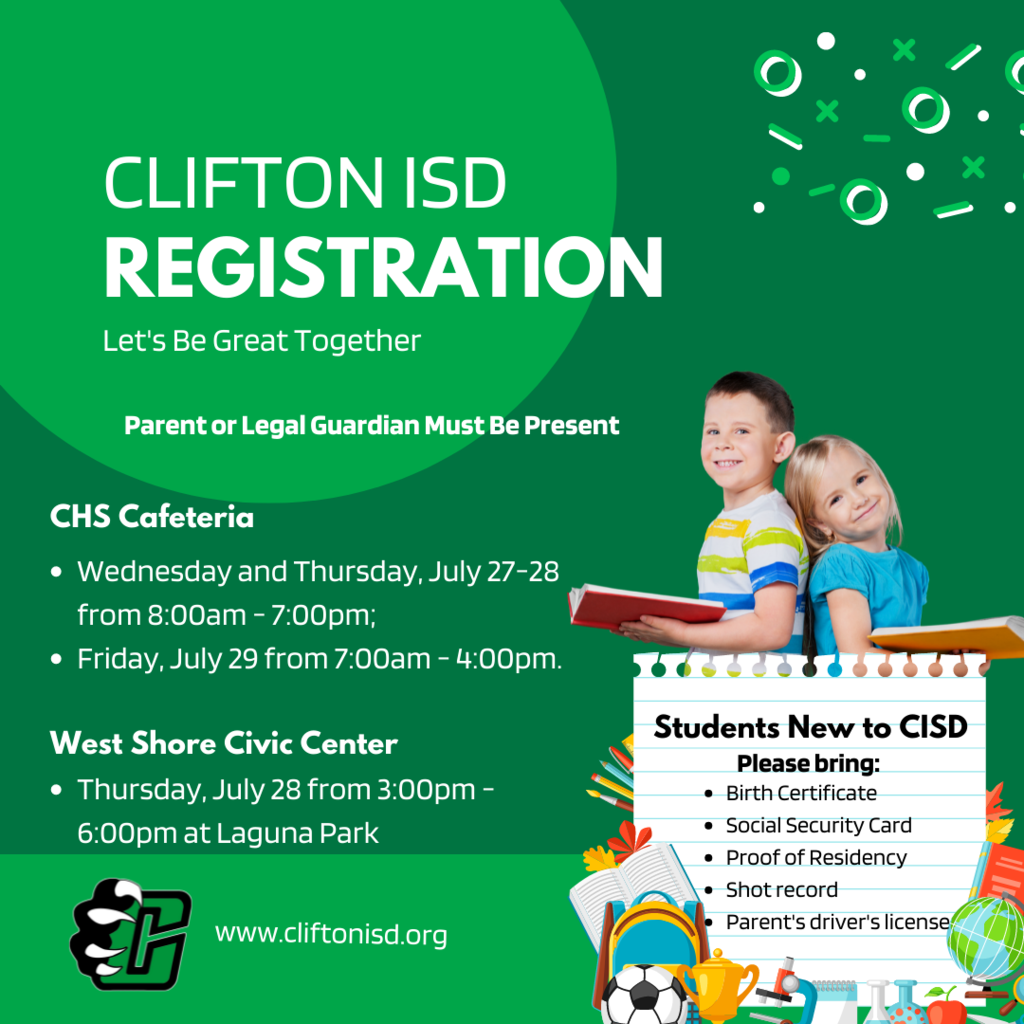 School supplies will be provided by the district for all grades PreK - 12th. Students will need to provide their own headphones/earbuds and backpack/lunchbox. PreK will need a nap mat, too. Enjoy the rest of the summer!!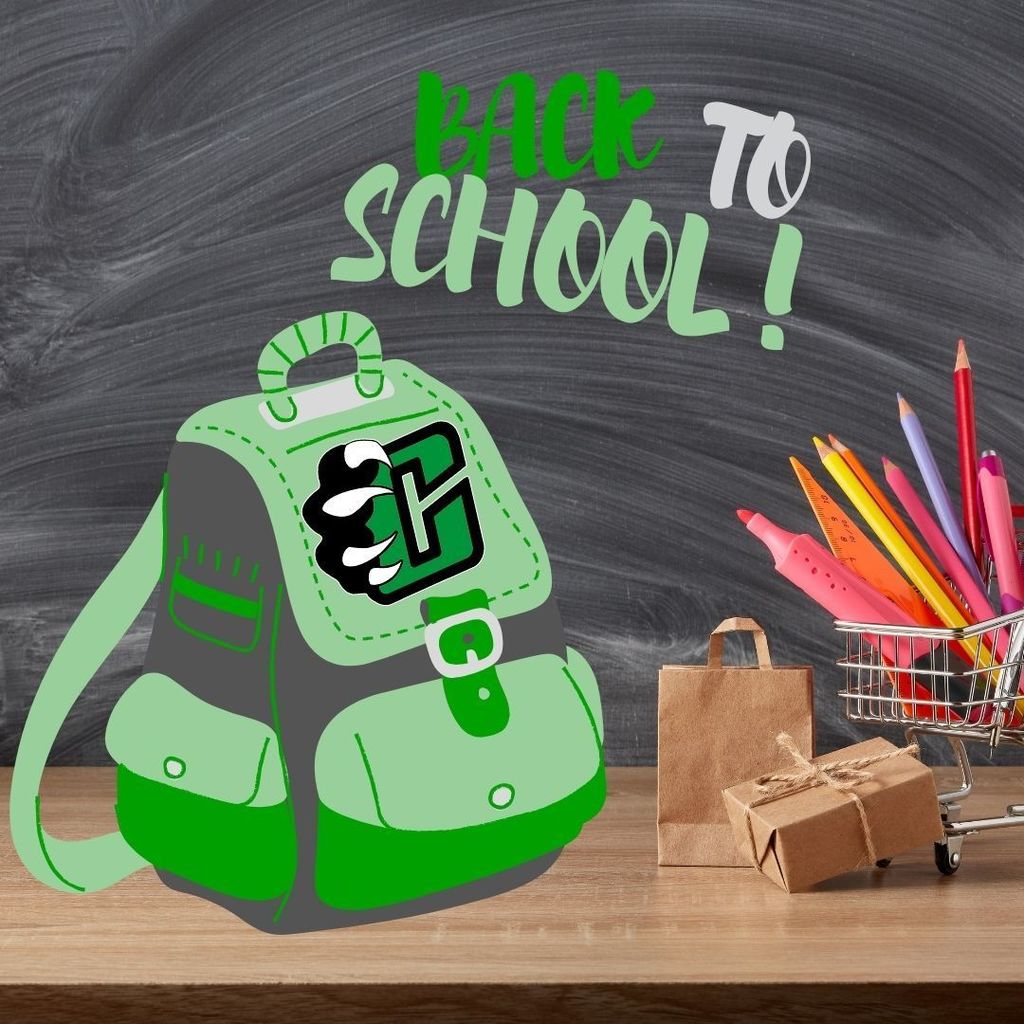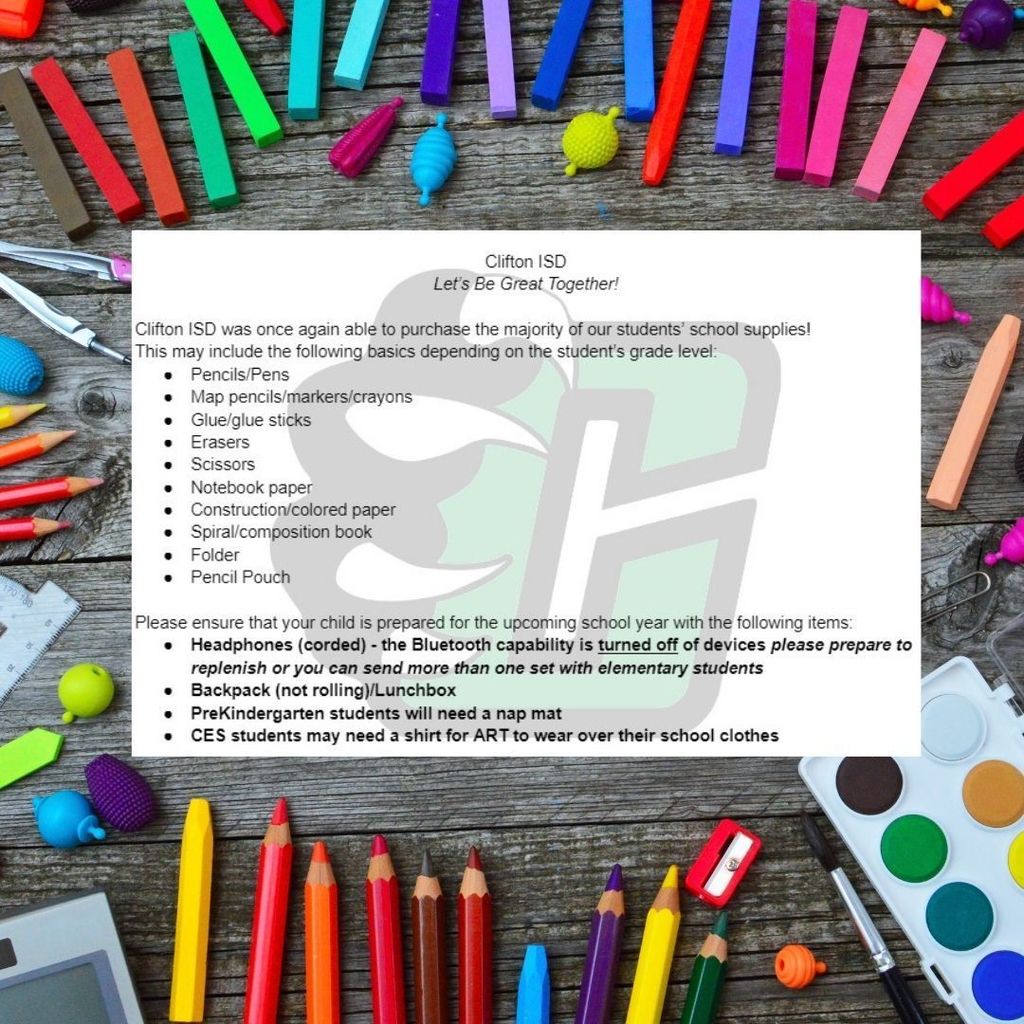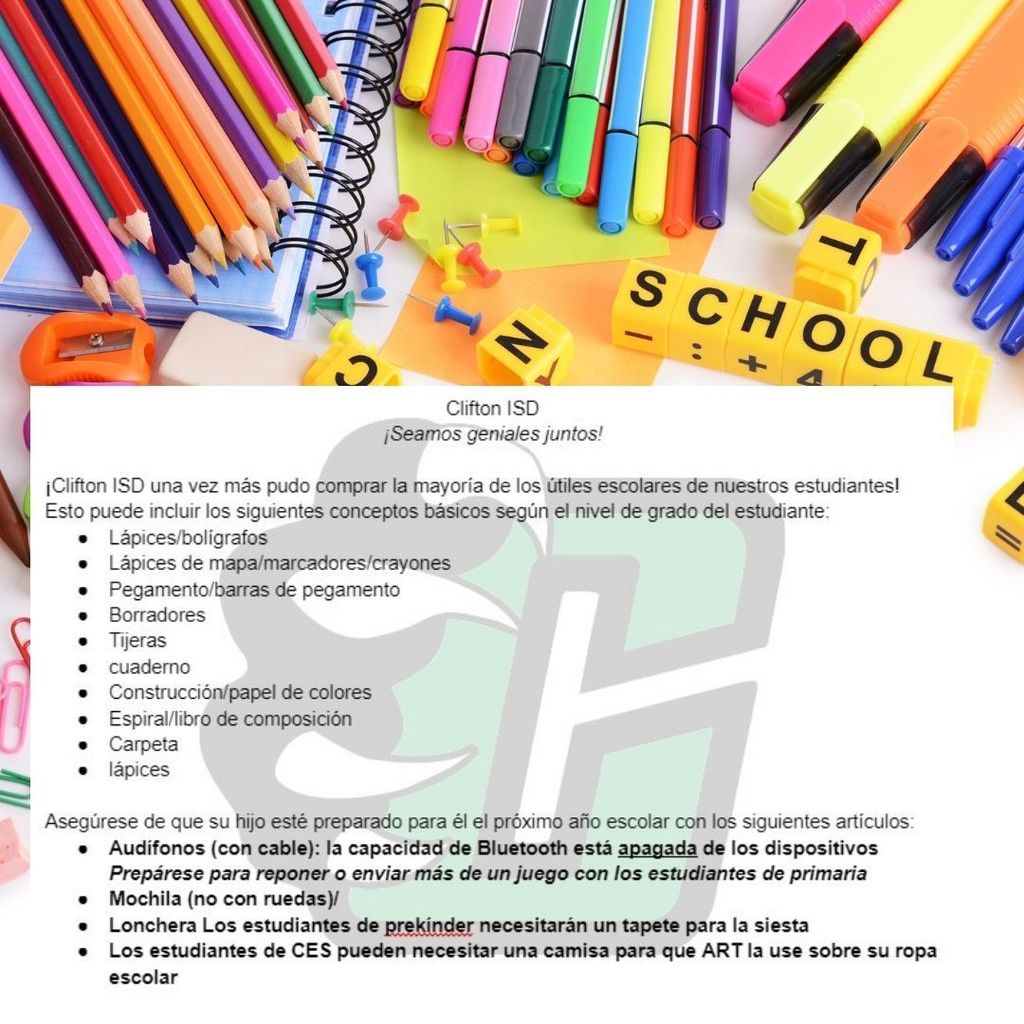 Families of Students Grades 3-8, the May 2022 State of Texas Assessments of Academic Readiness (STAAR®) grades 3–8 student results in the family and analytic portals will be available Friday, July 1. Visit:
https://www.texasassessment.gov/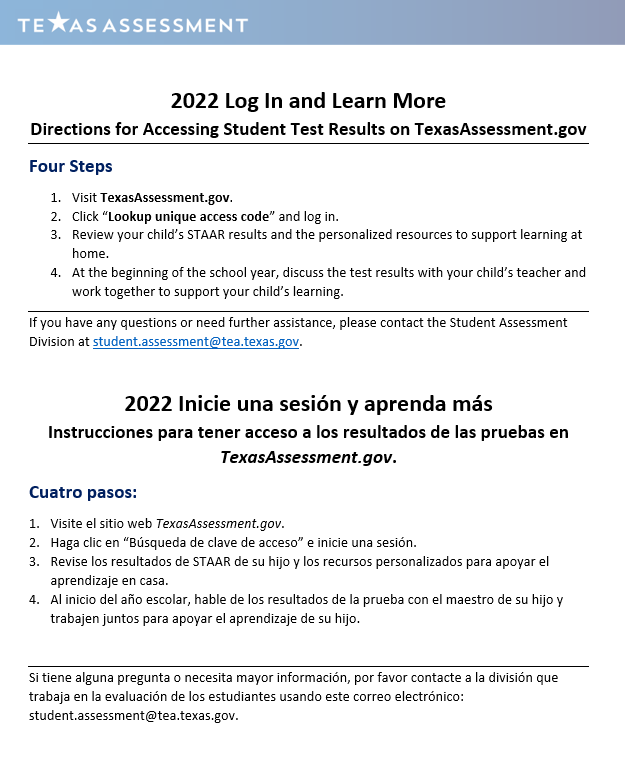 Families of 3-8 Grade Students: We were just notified by TEA that Family Portal for May 2022 STAAR Results will NOT be updated this Friday, June 24th as originally planned. We are sorry for any inconvenience this has caused. As we are given more information it will be shared.

A service of Celebration for Jackson Clay Newton will be held at the Clifton ISD Performing Arts Center at 10am on Saturday morning, June 11, 2022.  Visitation will take place from 6pm to 8pm on Friday at the First Baptist Church of Clifton Sanctuary. An account for the family has been set up at FNB Bosque County, and a scholarship fund has been established at FSSB. Please continue to keep the Newton family in your thoughts and prayers.
Clifton Elementary to host Pre-K/Kindergarten Round up. Monday, May 16th 2:00-6:00 pm in the CES Cafeteria. Round-up is a pre-registration process. See the attached flyers for more information.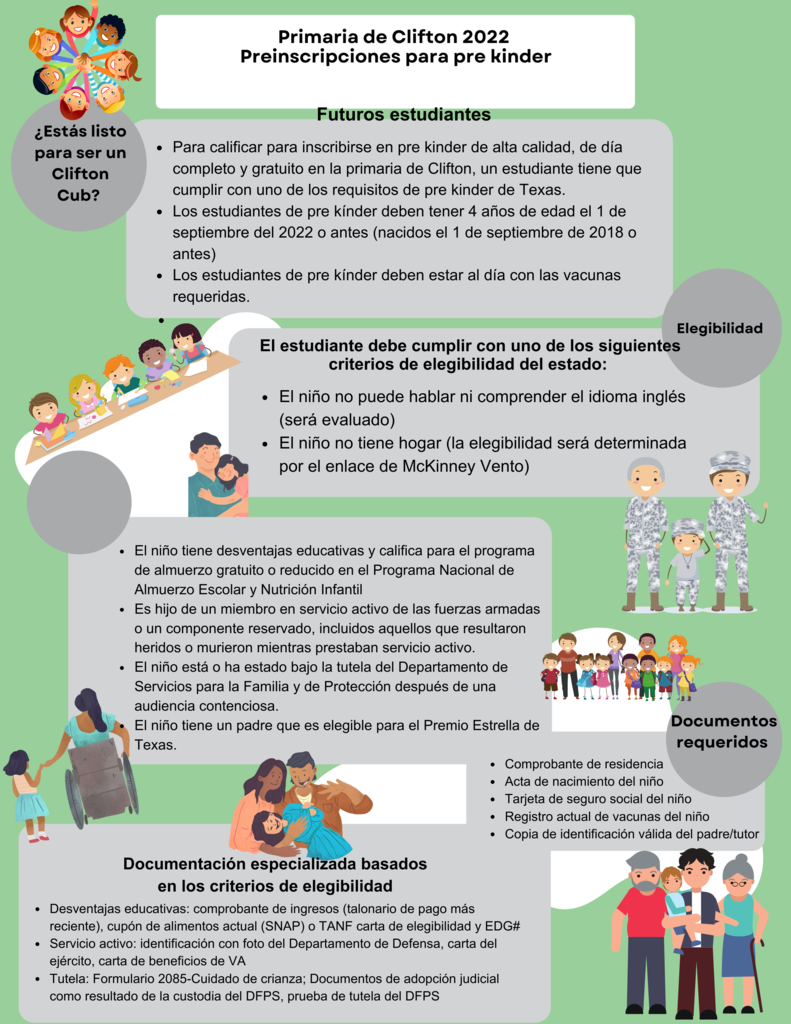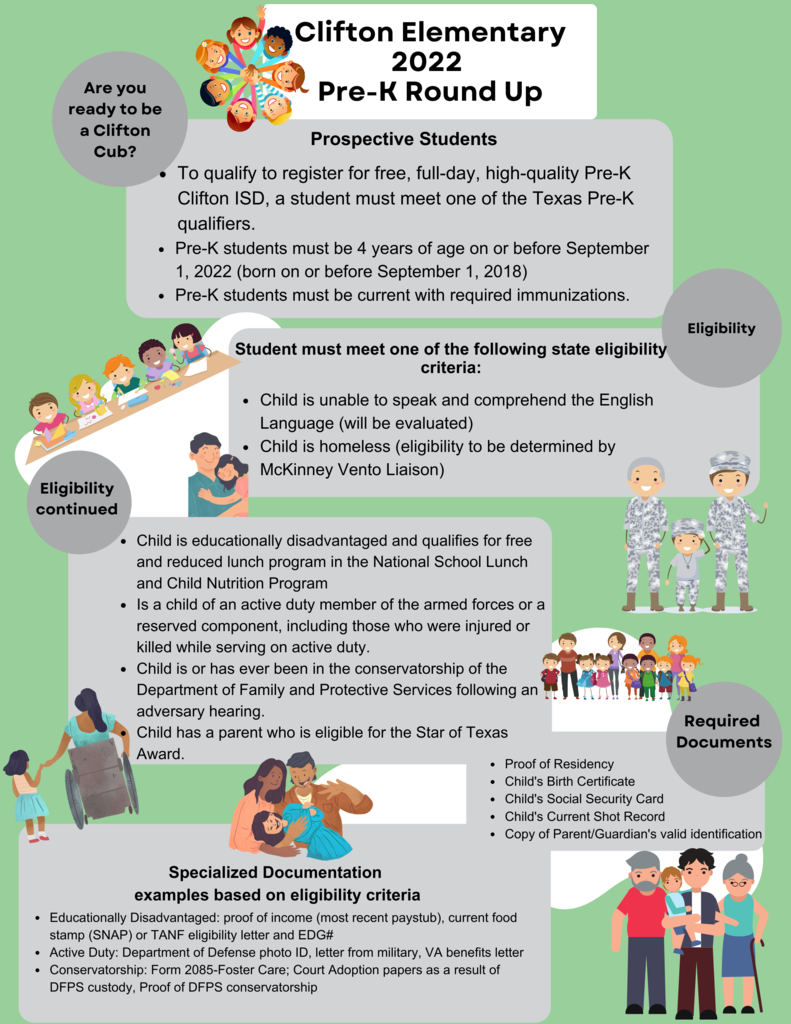 What is Math Awareness Month? Each year in April, we celebrate Mathematics Awareness Month to increase appreciation for mathematics, help people better understand what math is, and inspire people to study and apply math in their lives. At its inception in 1986, President Ronald Reagan said: "The application of mathematics is indispensable in such diverse fields as medicine, computer sciences, space exploration, the skilled trades, business, defense, and government. To help encourage the study and utilization of mathematics, it is appropriate that all Americans be reminded of the importance of this basic branch of science to our daily lives.

Good morning, CUB NATION! Just a reminder that tomorrow, Friday, April 15th and Monday, April 18th, there will be no school. Classes will resume as normal on Tuesday, April 19th. We want to wish everyone a Happy Easter and hope you have an EGGSellent holiday weekend! Be safe and have some FUN! We'll see all our students and staff back on Tuesday, bright-eyed and bush- tailed just like Peter Rabbit!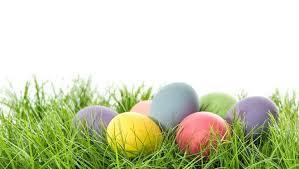 Good morning, Cub Nation! It's almost time to turn in your Big Kahuna fundraising envelope. You have one last day to work, but remember you must turn in your order form and money tomorrow, Friday, March 25th. Make sure your order form and money are placed in the Big Kahuna envelope. THIS IS VERY IMPORTANT! Make sure you have filled out all the information on your order form with your name, grade level, teacher, and parent's cell phone number. Turn in all fundraisers to your teacher. If you have not turned in your tickets yet for your Hedgehogz please get those in by tomorrow as well. Thanks for all your hard work, Cubs!

Good morning, Cub Nation! Just a reminder for CES parents and student... the Healthy Kids Running Series begins in Clifton this Sunday, 03/27. The healthy Kids Running series is a community based program "To engage communities and families by providing an inclusive youth running experience, inspiring kids to believe in themselves and lead an active healthy lifestyle." The cost for the entire series is $40 or $10 per race. The event will take place each Sunday the next six weeks, except for Easter Sunday, starting at 3pm at the Clifton City Park - 401 East 2nd St. in Clifton. Fore more information, please email
cliftontx@healthykdsrs.org
or go to
https://healthykidsrunningseries.org
. ...just another way to get your GROWL on, Cubs!

Good morning, Cubs! Welcome back to school today! We hope you all had a fun and relaxing spring break! Yesterday marked the official first day of spring with occurrence of the March equinox. In the Northern Hemisphere, the March equinox (aka spring equinox or vernal equinox) occurs when the Sun crosses the equator line, heading north. This event marks the start of the spring season in the northern half of the globe. After this date, the Northern Hemisphere begins to be tilted more toward the Sun, resulting in increasing daylight hours and warming temperatures. (In the Southern Hemisphere, it's the opposite: the March equinox marks the start of autumn, as the Southern Hemisphere begins to be tilted away from the Sun.) So, now you know! The important thing is to get out there and enjoy this spring weather! However, in your coming and going, remember to be true to our Cubs-inn-Action Motto. Be kind, be respectful, and be responsible in your interactions with others Happy Spring, Cubs!

Laughing Cub Monday - Joke of the week (submitted by CES student, Kevin Luna) Q. What is a snake's favorite subject to study in school? A. Hiss-tory Speaking of snakes...now that spring is here and temperatures start to rise, snakes will start coming out of hibernation. So, when enjoying the outdoors this spring be sure to be on the lookout for snakes, especially copperheads and rattle snakes! Be safe, Cub Nation!

Thank you to all who came out for opening night of this year's 5th grade musical, The Jungle Book! The students and staff appreciate your attendance and support. Just a reminder, if you missed tonight's performance there are still two more performances scheduled for tomorrow. The first is schedule at 9 AM for Friday, 03/04, at the CISD PAC. Please remember that the morning performance will have limited available seating. The evening performance is also scheduled for Friday, 03/04, at 7 PM. The cost of admission is $5 for each performance.

Good afternoon, Cub Nation! Just a reminder that tonight is the opening performance of this year's 5th grade musical, The Jungle Book. The performance will take place at the CISD Performance Arts Center at 7 PM. Doors will open at 6:30 PM. Admission is $5 for adults. There is no charge for students. We hope to see you there, however there will also be another evening performance on Friday, 03/04... same time, same place. An additional performance with limited available seating will also take place at the CISD PAC on Friday morning, @ 9 AM.

Good morning, Cub Nation! Just a reminder that this Thursday and Friday evening the CES music department will be presenting our annual 5th grade musical, The Jungle Book, at the CISD PAC @ 7PM. Admission tickets for each performance will be sold at the door. Cost is $5 for adults. Student admission is free. A Friday morning performance with limited seating will also take place at the PAC @ 9 AM. The cost of admission for this performance is also $5 for adults. We hope to see you there!

Laughing Cub Monday - Joke of the Week (submitted by Waylon Tebo) Why did the 4th grade teachers attach wheels to their hallway rocking chair? They like to rock and roll!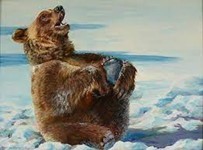 Happy Valentine's Day! Clifton Elementary students will celebrate Valentine's Day with classroom Valentine's parties beginning at 2:30 PM, on Monday, February 14th. Parents, please check with your child's classroom teacher for notifications about the particulars for your child's party.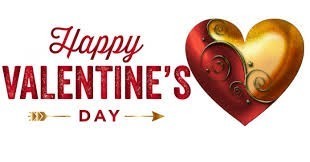 Clifton Elementary is proud to announce a special musical performance by our kindergarten and 1st grade students on Friday, February 11th, at 9:00 AM. The performance will take place at the Clifton ISD Performance Arts Center under the direction of Mrs. Fry, our music teacher. Parents, family, and friends are welcome to attend as we celebrate the talent and efforts of our Cubs!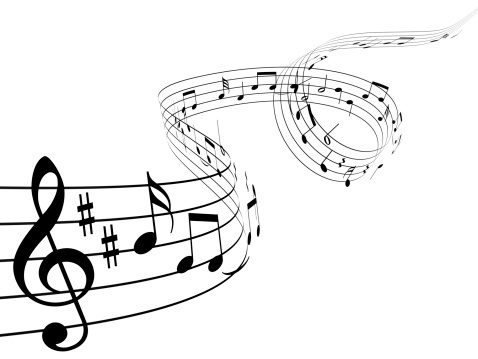 Clifton Elementary School has been selected by the state to participate in STAAR Field Testing for 5th Grade Math. A field test is simply an opportunity for test designers to test questions for future STAAR assessments. Students and school districts are not held accountable to the results of these tests. However, the same measures of test security are applied to ensure the integrity of the test questions. The 5th Grade MATH STAAR Field Test will be administered on Tuesday, February 8th.